Hey, everyone! I hope you are having a fabulous Friday so far. I just have a few things to share with you today. First of all, I have a
WINNER
for the Mother's Day Blog Hop!
YIPPEE!!!
YAY!!! Congratulations, Kathie! I'll be e-mailing you to get your mailing address so I can get your "Our Mothers" stamps out to you. :o)
In other news, Sam over at
Crafty Chick Cards
has given me the Stylish Blogger Award! Thanks so much, Sam! I've already passed this award on, but I hope you'll go check out Sam's blog. She has some really pretty projects! :o)
Finally, I want to invite everyone to come back tomorrow (Saturday, April 30) to check out my creation for the Scrappy Birthday Blog Hop, which is being hosted by April at
Curls and Grins
. And, of course, I'll have a little blog candy up for grabs! YAY!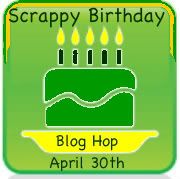 Have a happy Friday, and I hope to see you back here tomorrow! :o)